This year's catalog has a new invitation on each page:  "Gift?  Please Add a Ribbon."
We wanted to make your gift complete  So we had thousands of high-quality grosgrain hand-tied ribbons and bows made up for you-to add color and a finishing touch to your package. Whether for a birthday or anniversary, Valentine's Day, Mother's Day or Easter, Thanksgiving or Christmas, or just because – we have a bow for you. In addition to making your gift more beautiful, adding a ribbon helps us to support our life of prayer.  We hope it will bring you added joy!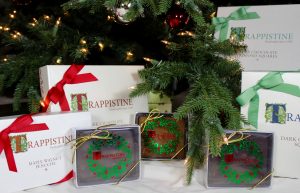 We offer a scarlet shade of red for Christmas and Valentine's Day that really makes our Trappistine logo on our Butter Nut Munch and Chocolate Hearts "POP" – your gift is ready to give; you won't want to cover up beauty of the pearlized paper with other wrapping paper.
The "best" is still inside the box – a bounty of mouth-watering goodness.
And, the satiny grosgrain fabric we've selected holds its shape and doesn't crease or wrinkle like paper-based ribbons do.  The bow is carefully packed for shipping, and maintains its fullness even after a trip on Santa's sleigh!
Simple, elegant, and high-quality, our bows are consistent with the Trappistine way of life:  simple and with a focus on intent and purity and quality.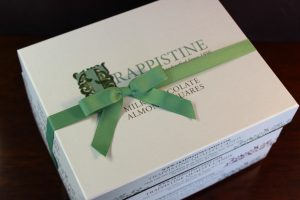 Do you have a springtime occasion to celebrate?  All of our boxed candies come with an optional Spring Green ribbon, which looks especially beautiful on our boxes of Chocolate Squares, Chocolate Almond Squares, and Simply Munch, all printed in shades of blue or green.  It's always nice to offer quality chocolate to the adults at the Easter gathering; we recommend our Simply Munch, which is pure and fresh and simple like a flower budding on a spring morning.
Mother will love your gift of Dark Chocolate Almond Squares or Chocolate Hearts as a sign of your affection for her special day – adorn it with a lovely spring green ribbon, and your gift will be extra- thoughtful … just what a mother appreciates!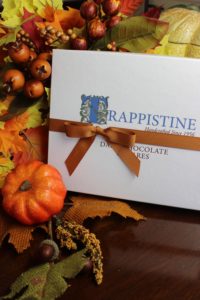 Thanksgiving is a time of bounty- what better time to share a bountiful box of our Chocolate Squares or Chocolate Almond Squares.  The Copper color of our Thanksgiving bow reflects the shades of autumn, and also brings to mind the milk chocolate inside the box!
And, finally, we have a ribbon that shouts "Chocolate!" – our Autumn Ribbon – a dark chocolate shade that will accelerate the opening of the box to reach what is inside – rich, and delicious, it's waiting there for your special someone!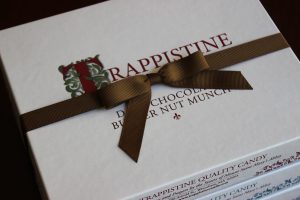 Your selection of a ribbon goes a long way to supporting our life of prayer – for you and for the world.  So, next time you give our candy as a gift, please consider adding a ribbon!
Proposing to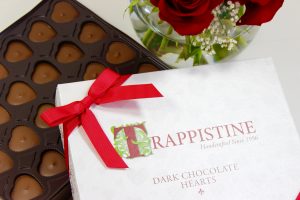 that special someone this Christmas?  Open the box, and put the engagement ring into one of the Chocolate Heart slots (yes- take one out, and go ahead and enjoy it!)  She'll be delighted, and you'll both have something to share to celebrate her "YES!"  The good news is that the bit of elastic behind the bow makes the ribbon re-useable, and it will look good as new when you replace it around the box.
Wishing you a blessed Christmas and holiday season.
With love and prayers,
The Sisters of Mount Saint Mary's Abbey