Have you noticed? We've wrapped your gift for you – whether it be for a Birthday/Anniversary/Holiday, or "Just Because".
We know how popular our candy is for gift-giving and so we've gone to the effort of re-designing our gift boxes, selecting a pearlized finish for the paper, and a distinguished-looking logo that elegantly decorates the top of the box.
To add more color, and a finishing touch for your gift, appropriate for each season and holiday, we've introduced a quality hand-tied grosgrain ribbon and bow.  For Christmas, your gift can be ordered complete with a Red ribbon.  Thanksgiving Ribbons are a Copper color, and for Autumn occasions, a Chocolate Brown to match the falling leaves of the season.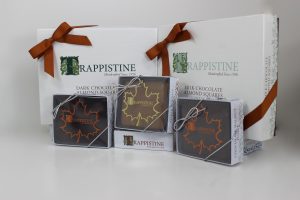 Of course, Valentine's Day boxes are adorned with a red ribbon.  And the paper is printed with silver hearts: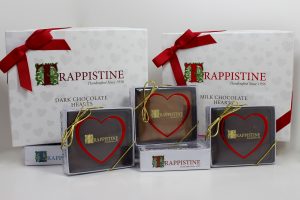 Finally, gifts for the Spring Occasions and Holidays – Easter and Mother's Day – come with a Spring Green ribbon and bow.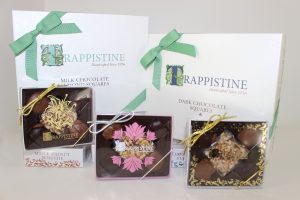 These ribbons have been selected for their quality and resilience – they will not wrinkle during shipment, and can be re-used.
We hope you'll order ribbons for your gift candy.  While enhancing the appearance of your gift, and making it "ready to give", your ribbon purchase goes that much further toward helping us to support our community's life of prayer for the world.
And, as you see in the photos, we've re-packaged our Fudge and Samplers so that they are not only visible through the clear acetate top, but they, too, are decorated for occasions and holidays!
We wish each and every one of you a blessed, peace-filled and joyous Thanksgiving and Christmas/holiday season.  With love and prayers,
The Sisters of Mount Saint Mary's Abbey.