Simplicity – Frugality – Green Energy
Members of the Cistercian order of the Strict Observance, the sisters of Mount Saint Mary's Abbey pledge a life of simplicity and frugality, of prayer in union with God.  As part of their Cistercian tradition, they are required to live by the work of their hands.  They run Trappistine Quality Candy to fulfill this requirement for the sole purpose of supporting their life of prayer, and of sharing with the poor.
The constitution of the order also calls the sisters to act in conservation of the environment and to manage natural resources prudently.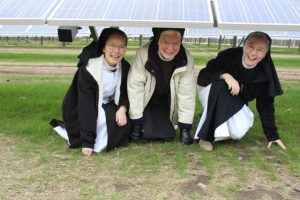 With this value in mind the sisters support three types of renewable on their property:  a wind turbine which supplies power for their monastery, a geothermal energy system for heating/cooling of their factory, and solar field owned by a local energy company, which supplies the public buildings for the nearby town of Franklin, MA.
The sisters live simply in peace and shared joy, and charity making their chocolates with love and prayers for the world.
Your contributions to our community are welcome and appreciated.  In supporting us, you are supporting a community that fosters continuing prayer for the world, a responsible lifestyle of simplicity and work,  and sustainable energy!


If you would like to make a donation to the Abbey Farm Project, please click the Donate button below!


To make an online donation to Mount St. Mary's Abbey, please use PayPal:
To donate by check, please make your checks payable to:
Mount St. Mary's Abbey
300 Arnold St.
Wrentham, MA 02093
Bequests are also appreciated and accepted.